Below you can see examples of our different terminals. They are available in different designs and are an obvious complement when you create your reception environment. The registration terminal is used primarily at the time of self-registration when the visitor himself registers upon arrival.
Service station
The service station is the ultimate unit for self-service and has its own designated place for the administration of all types of personal IDs for example corporate ID or student ID.
The station can be furnished with several hardware alternatives to adapt to your needs. The design is very robust and is developed for daily use in a public environment for example schools and universities. It is also equipped with several communication interfaces and is usually connected to the Internet or Intranet. This makes it possible to also use the station as a terminal or information booth.
Examples of information that the service station can be used to collect:
Personal data
Personal pictures
Signatures
Option to choose Pin Code
Choice of Pin code
Self-service terminal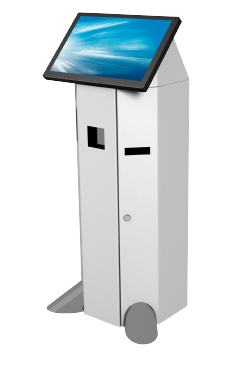 On arrival, the visitor shows the QR code to a reader (directly on his mobile telephone) and is automatically checked in while the visiting etiquette is printed and the visitor attendant gets a notification via SMS and/or email. In this way, the reception staff and the pre-booked visitors can register themselves manually on arrival. We have developed a solution to meet the demand of the market around self-service services and it has been a mega-hit. For us, it is about, along with our customers, working toward cost savings while achieving a higher security level.
Obviously, the terminal can also be used for self-registration for the visitors who are not preregistered.
Photo station Express

Photo Station Express is an all-in-one solution. Thanks to the compact format, the photo station can easily be moved between different rooms or locations. Seriline offers a simple and portable photo station that can be conveniently placed in a temporary room at a healthcare facility, for photography of the staff, for a limited time. The station can be placed on a table or hung on a wall and an external card reader is connected to the station. Photo Station Express has built-in lighting to take professional photos.
The station can be used for both re-ordering or renewal of existing cards. When re-ordering, the user is allowed to fill in his / her own information, while at renewal the user can use his existing card for identification. Checking for a blocked list can be done automatically if the station has Internet access, or against a manually saved list on the station. Photo Station Express can be used completely independently as all information can be stored on the local computer. Alternatively, it is connected to a network and the information can then be stored at any location where the station has access. As the customer often has requirements for computers to be connected to the network, the customer can provide a computer himself if desired.